We are very particular about delivery, thats why we employee and train our own team to handle our products. Our delivery team provide a white glove service to your home and ensure that all products are setup and installed correctly.
DELIVERY SERVICE AND TIMESLOTS
DELIVERY DAYS
Monday - Saturday
*Sundays & Public Holidays are non-delivery days.
DELIVERY TIME
| | |
| --- | --- |
| Morning Slot | 10:00 to 14:00 |
| Afternoon Slot | 15:00 to 18:00 |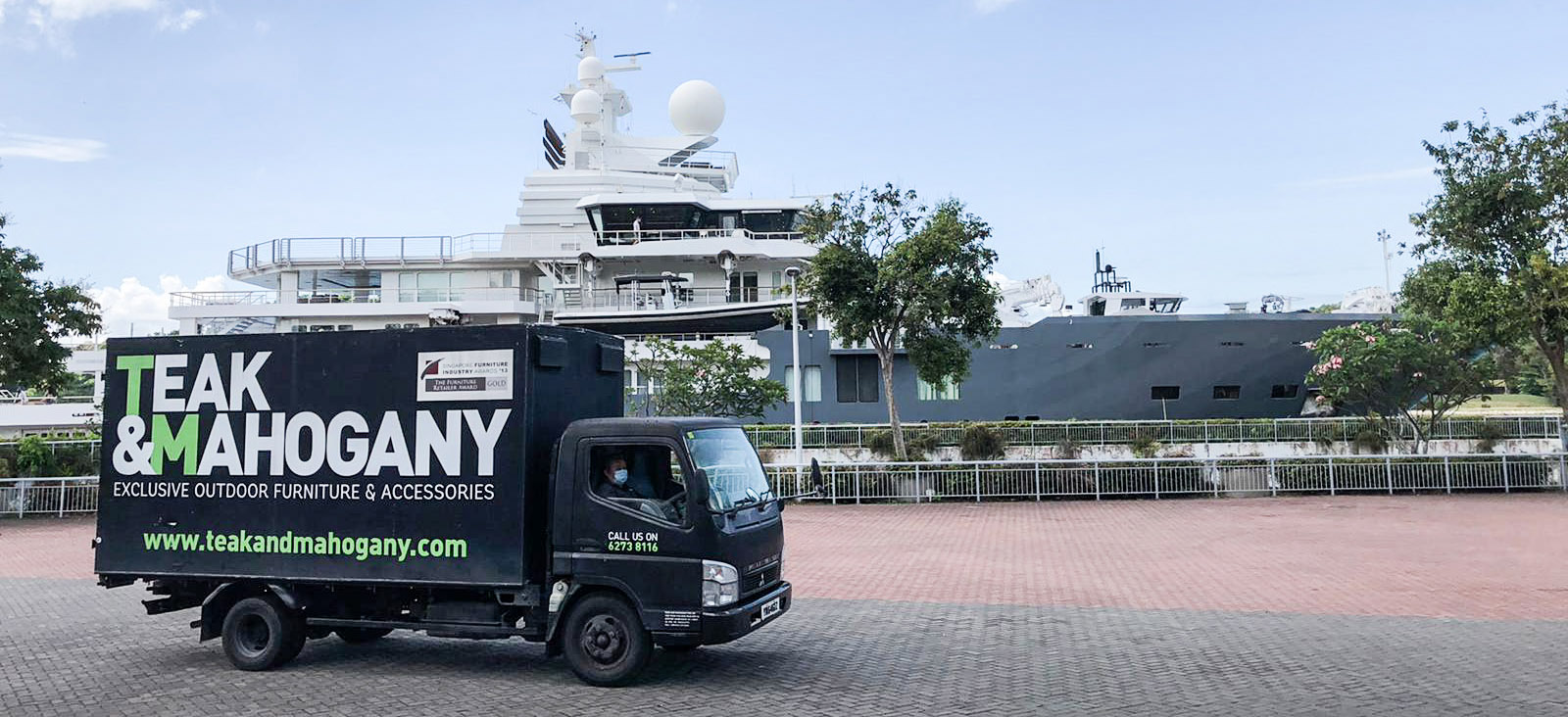 DELIVERY CHARGES
In order to keep our prices fair we offer free deliveries only on orders over $1000.00. Customers may also self collect there items or arrange there own transport with at least 3 days notice to our sales team.
The below table highlights the various charges for our delivery service.
| | |
| --- | --- |
| ORDER VALUE | Delivery Charge |
| Homeware | |
| Over $500 | Free |
| Under $500 | $50 |
| Furniture | |
| Over $1000 | Free |
| Under $1000 | $50 |
BUILDING ACCESS
In the event our delivery team face difficulties with access to your home we may have to cancel the delivery as it is common for more than one delivery to be scheduled for morning or afternoon slots. If the delivery cannot be completed on the first or second attempt, Teak & Mahogany reserves the right to issue a credit note at our discretion. No refunds are given for deliveries that cannot be delivered due to access issues. Customers are responsible for measuring and taking note of all access points before purchasing to ensure a problem free delivery.
RECEIVING ITEM(S)
NO ONE HOME TO RECEIVE SCHEDULED DELIVERY
In the event whereby the buyer or 3rd party is not at the indicated delivery address to receive the scheduled delivery, our delivery team will wait for a maximum of 15 minutes before moving onto the next appointment. Any failed delivery attempts will be rescheduled to the next available delivery date agreed upon by Teak & Mahogany and the buyer.
DEFECTS OR DAMAGES
It is important that once your items are delivered that you go through all the items on the delivery order and ensure that they are delivered free of damages and defects. If you have a third party reciving the goods they are liable to ensure that the items are free of damages and defects as well when they sign the delivery order. Any damages or defects on the item(s) must be reported immediately and written on the delivery order comments or emailed to us on the same day as the delivery. Any claims after this time will be treated under the warranty conditions and treated as such. If you wish for our delivery team to not unpack and allow you to inspect the items upon delivery you accept the items are in good condition and free of damage.
DIFFICULT DELIVERY
We want to ensure that every delivery is a smooth one, which is why we ask that any complications or access difficulties that may be of concern before delivery be informed to our staff prior to or during the transaction so that we can better plan your delivery.
Examples of difficult deliveries include:
parking outside the condonium, lift access issues, stairs cases in your home, items that cannot fit in the lift, padding setup required for lift, the delivery access point is beyond 50m from the delivery veichle.
LIFT ACCESS
If the delivery is intended to be on a floor higher than the ground floor, our delivery team require access to a lift that is capable of fitting all the items you have purchased. If the items are unable to fit in the lift we may have to cancel the delivery attempt and evaluate the feasibility of delivering via a staircase if no prior notice was given.
STAIRCASE CHARGES
If we are required to deliver via a staircase, a fee of $15 per a floor above the second floor will be chargeable and owed upon all items being delivered.
FAILED DELIVERY
Deliveries that cannot be completed due to access difficulties are considered the consumers responbility and Teak & Mahogany is not liable as such. Store credits are given at the discretion of Teak & Mahogany. Custom made items or not refundable or exchangable.
Deliveries that cannot be completed due to weather or unforeseen circumstances will be rescheduled to the next available date and time.
DELIVERY DELAY DUE TO UNANTICIPATED EVENTS
There are unfortunately sometimes delays in the production of items or items that may be not suitable for delivery upon inspection prior to delivery. In these situations we do our best to loan or escalate your items as the highest priority to be sent on the next available container. No sale is subject to be completed by a certain date unless entirley expressed and acknowledged in written form on the sale order. Teak & Mahogany reserves the right to change a delivery date based on availability of items or partially delivery available items first. No refunds or compensation will be given for the delay of item(s) not delivered.